Did you know?
"Servus" in the Heart of Europa
Enjoy this interesting and entertaining article about a traditional salutation commonly used in many countries in the Heart of Europa:
Forgotten Galicia - Servus, Hello from the Old Days
Courtesy of forgottengalicia.com
In Vienna "Servus" is usually used as a greeting among friends and family members.>
Central European Defence Cooperation
Central European Defence Cooperation (CEDC) was established in 2010. It brings together Ministries of Defence from six member states (Austria, Croatia, Czech Republic, Hungary, Slovakia and Slovenia) and one observer state (Poland).
Today, CEDC represents a security and defence platform for the participants in order to discuss, develop and promote common interests. The principle goal of the CEDC is to contribute to the strengthening of regional security within the framework of EU and NATO PfP by promoting specific regional interests of the Participants. In particular, the cooperation focuses on coordinating EU policies, tackling common regional challenges and threats, initiating projects among armed forces and capacity-building. Being aware that regional security is intrinsically connected with the security of neighbouring regions, a cooperation with Western Balkan partners has also been established.
AEIOU
AEIOU (A.E.I.O.U.) is a historical motto of Frederick III (Holy Roman Emperor, 15th century)
Frederick started using his motto when he was Duke of Styria. It is not known what exactly was meant by it, most of the countless interpretations in Latin or German refer to "Austria". The five-letter abbreviation is still found today on various buildings (for example the Castle of Wiener Neustadt in the south of Vienna which houses the Military Academy)
Heart of Europa proposes a present-day interpretation:
All Europa Is One Unity
Josefstadt - Iosefin - Jószefváros
Josefstadt is a district in the city of Vienna, Austria (8. Bezirk). There is also a district Iosefin in the west-romanian town Timişoara, Romania and a district Jószefváros in Budapest, Hungary (VIII kerület). The names date back to emperor Joseph II. The three districts maintain a partnership.
In March 2019 Asociaţia Culturală Salvaţi Patrimoniul Timişoarei (Association for the Salvage of Cultural Heritage Temesvar) organised the photo exposition Iosefin - Die Josefstadt von Temesvar in cooperation with Österreichisch-Rumänische Gesellschaft (Austrian Romanian Society).
300 years brewing tradition in Temesvar, RO
In 2018, the local brewery in Temesvar, Romania (Fabrica de bere) celebrated its 300 years anniversary. In 1718, 2 years after Prince Eugene of Savoy, general of the Imperial Army, had conquered back the fortress of Timisoara from Ottoman occupation the brewery was established in connection with the improvment of infrastructure for water supply (hot water boilers). Today, the brewery is part of an international brewing empire.
Pannonia & Dacia
Pannonia and Dacia were provinces in the Roman Empire which existed from the 1st to 5th century and 2nd to 3rd century, respectively. Pannonia covered the western part of modern Hungary (west of river Danube), Dacia corresponds to the region of Transylvania, Romania, reaching southwards to the river Danube. The names of both provinces survived until today and are popular in tourism and they are also frequently used in other domains such as geography or transportation. There are the 'Pannonian basin' and 'Pannonian climate'. In general the name ist frequently used in tourism both in Hungary and in the Austrian province "Burgenland". Dacia is the name of an auto brand, the night train D347 from Vienna to Bucharest is called "Dacia Express" and in Romania it is a popular oppinion that the Romanian nation has its ancient roots in Dacia. The landmark Hotel Dacia in the town of Satu Mare, northwest Romania, was previously named Pannónia when the region belonged to Hungary.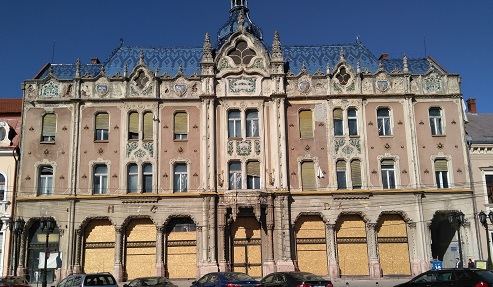 Hotel Dacia, Satu Mare in 3/2019, desperately waiting for renovation
In the News
Train Connection Ukraine - Romania reopened
On January 17, 2023 Ukrainian Railways Укрзалізниця, Ukrzaliznytsia reopened a cross-border conncection between the Transcarpathian city of Rakhiv (Рахів) and the small Romanian border-town of Valea Vișeului in Maramureș County, northwestern Romania.
Short as the connection may seem, 22 km, it is an important symbol for linking Ukraine closer to the Heart of Europa.
Furthermore, this track is part of 19th century historic railway route between the northeast of Hungary and the Austrian Empire crown land Galicia. The original track was opened in 1894/95 and featured some impressive bridges, tunnels and viaducts. At that time, the famous Bridge of Jaremcze (міст Яремче) was the world's longest single-arch stone bridge with a span of 65m and viaducts at both sides. Unfortunately, it was destroyed in the 20th century. (see chapter Transport, lost places)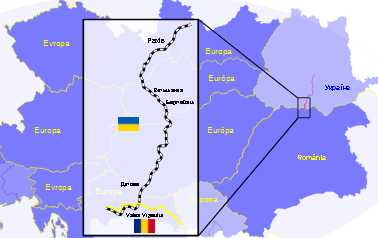 Railway Rakhiv - Valea Viseului
Capital of Culture: Timisoara 2023
Between 17 - 19. February 2023 the Capital of Culture Timisoara launched its opening programme with more than 130 events in three days.
Timisoara / Temesvár / Temeschwar is Romania's third-largest city in the western part of the country close to the hungarian and serbian border. It is an important industrial, commercial and cultural centre in the region and has strong historic and cultural ties to Central Europa. The building of the National Theatre and National Opera is also home to the Hungarian State Theatre and the German State Theatre being an impressive symbol of the multicultural tradition in Timisoara.
Mura-Drava-Danube 5-countries biosphere reserve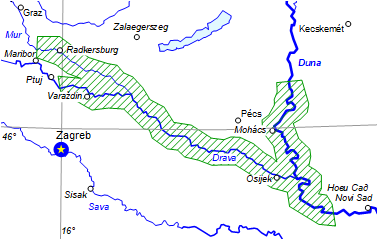 Mura-Drava-Danube 5-countries biosphere reserve
In September 2021 UNESCO declared the Mura-Drava-Danube river system as 5-countries biosphere reserve. The respective region is entirely situated in the Heart of Europa, it stretches from Austria via Slovenia, Croatia and Hungary to Serbia. 13 protected areas of various size and composition (national parks, reservations, Natura 2000 sites) form the biosphere network with a length of 700km and a total size of 930.000 hectares.
Danubian Limes becomes UNESCO World Heritage site

Danubian Limes in Austria and Slovakia
On July 30, 2021, the UNESCO World Heritage Committee decided to add the western part of the Danubian Limes to the list of World Heritage Sites. "Limes" is the modern term for the military frontier of the Roman Empire. The Danubian Limes, or "wet" limes, stretched from Bavaria to the Black Sea. The site was nominated by Austria, Germany and Slovakia. Originally, Hungary was also a partner in the nomination process but decided later to withdraw from the partnership. The Danubian Limes is a part of the UNESCO World Heritage project "Frontiers of the Roman Empire".
derstandard.at - Donaulimes mit Österreich-Abschnitt zum Weltkulturerbe erklärt
spectator.sme.sk - Another UNESCO world heritage site in Slovakia dates back to the Roman Empire
hang.hu - A magyar szakasz nélkül is világörökségi védettséget kap a dunai limes
"Vindobona" train returns to Franz Joseph Railway
31 March, 2021, Lower Austria. Between 1957 and 1992 this representative fast train connected the capitals Vienna, Prague and Berlin in the Heart of Europa, following the historic route of Franz Jospeh Railway. Starting in December 2022, there could be a revival of this direct, important connection. Technical and organisational requirements are under investigation.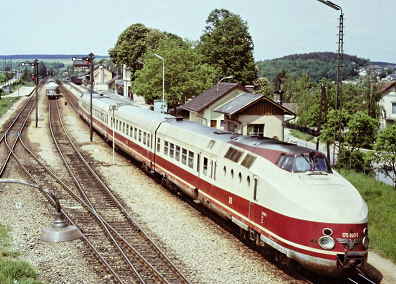 Train Vindobona
© Büro LR Schleritzko/Wolfgang Andraschek
noen.at - "Vindobona" vor Rückkehr auf die Franz-Josefs-Bahn? (german)
Flavia Solva Discovery
8 March, 2021, Styria, Flavia Solva. Explorations in the area of the Roman city Flavia Solva in Styrian district Leibnitz have revealed new historical details. An almost 2 kilometer long moat once protected the settlement. Hence, Flavia Solva must have been larger than previously assumed and a flourishing Roman centre. For many decades archaeologists suspected the existance of such a moat, now these speculations were proven right.

meinbezirk.at - Sensationelle Neuentdeckung im Reich Flavia Solva (german)